Thomas "Freight Train" Walker
 Kansas City, Kansas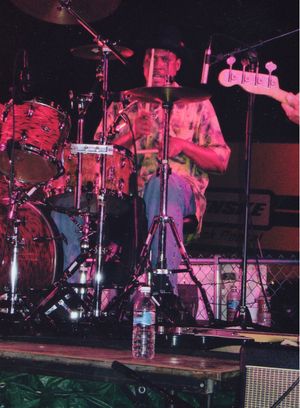 Since sitting behind his first drum kit at the age of three, Thomas "Freight Train" Walker has been a dedicated, life-long musician. Thomas has been a studio session and touring drummer for the last 24 years and has toured and/or recorded with Dennis Rowland, Stan Devereaux, George Bowman, Donnie Dean & Diana Lee, Sister Sledge, J.D. Simo & Dirty Pool, The Big Pete Pearson Blues Band, and the Thermal Blues Express. Train has performed extensively with Kevin Mahogany, Ida McBeth and the Kelley Hunt Band, spending several years with each group .
Over the years, Thomas has participated in the recording of more than 20 CDs. It was at one of those recording sessions that he earned his nickname......a musician had listened to his steady beat and solid groove for hours, and declared "Man, you sound like a mother f#$%in' freight train!" The others agreed, and he's been Freight Train ever since.
For over a two decades Freight Train has performed with the Glenn Patrik Band on numerous tours and is featured on all four of Glenn's Shakehouse Records releases, The Wild Blues Child ©1991, Mr. Blues Jr. ©2006, Nuthin' But A Thang! ©2009 & Original Blues ©2010!